Maryland Rebuilds is a Maryland State Department of Education (MSDE) grant opportunity designed to support the state's child care system in utilizing federal funds to stabilize, strengthen, and sustain the child care system and mitigate the impact from the COVID-19 pandemic.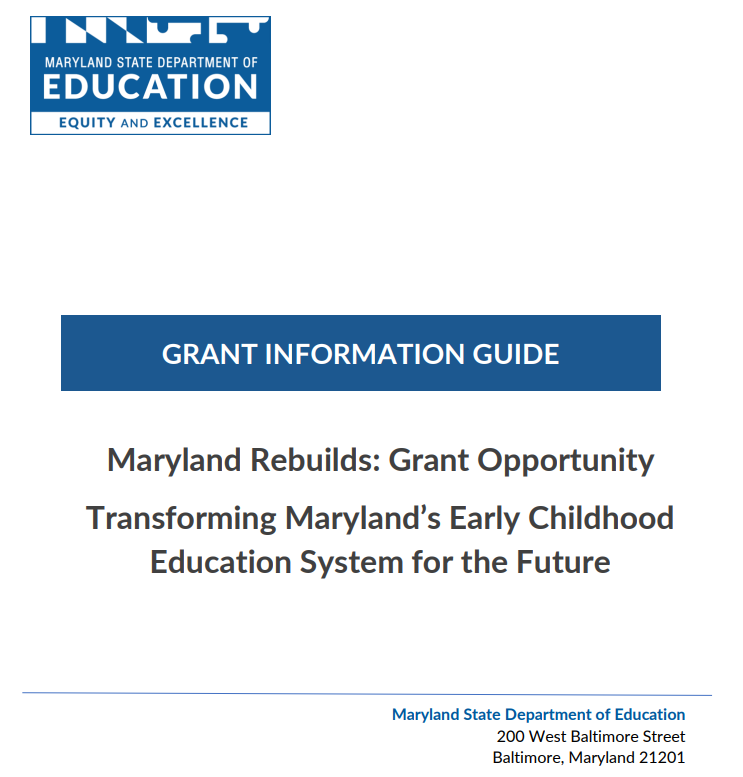 Translated Grant Guide: Spanish  Arabic  Amharic  French  Korean  Russian  Vietnamese  Chinese Simplified  Chinese Traditional  Yoruba
ELIGIBILITY
Non-profit organizations, Institutions of Higher Education (IHEs), Local Education Agencies (LEAs), Local Early Childhood Advisory Councils (LECACs), Judy Centers, private child care providers, and public prekindergarten programs are eligible to apply for funding depending on the high-leverage strategy. Partnerships and collaborative entities are also encouraged to apply. The MSDE reserves the right to take into consideration several goals when making awards: achieving a distribution of services and support that aligns with differences in geographic need; increasing the participation of underrepresented demographic subgroups; and broadening award recipients to applicants who have not previously been eligible for or successful in applying to a State grant program.
APPLICATION PERIOD 
This Grant Information Guide was released on August 30, 2022.  Applications are due no later than 11:59 p.m. on NOVEMBER 10, 2022. (UPDATED 10/17/2022)
GRANT PERIOD
December 1, 2022 – June 30, 2024
TOTAL FUNDING AVAILABLE
$43 million
ESTIMATED NUMBER OF GRANTS
40-55
SUBMISSION INSTRUCTIONS
Applicants must submit the Maryland Rebuilds Application and all required attachments no later than 11:59 p.m. November 10th, 2022 via email to marylandrebuilds.msde@maryland.gov. All deliverables must meet current Web Content Accessibility Guidelines (WCAG 2.1 Level AA) accessibility standards as outlined in Senate Bill 617.
Download the application. For applicants applying to more than one strategy, a separate application must be submitted for each strategy.
---
Customer Service Support Sessions
The Maryland State Department of Education seeks to support any potential applicant in submitting the strongest application possible. Strong program designs are essential to ensuring Maryland Rebuilds delivers upon the goals of the initiative. Customer service and support for Maryland Rebuilds consists of general information and strategy information sessions as well as for appointments, upon request. These sessions and the scheduled dates are listed below.
General Information Sessions Prior to completing and submitting the application, it is required that applicants attend at least one General Information Session. These sessions provide an overview of the Maryland Rebuilds grant program, requirements, and how to apply. To register for a session, click on a session date below.
MSDE staff are available to support applicants throughout the submission process. In addition to the information sessions and office hours listed below, applicants may make individual appointments with MSDE staff as needed
Strategy Sessions
After attending a general information session, applicants must attend a strategy specific session to gain a deeper understanding of the requirements and expectations for the strategy you're interested in. To register for a session, click on a session date below. 
October 5, 2022 - Final Strategy Session for Strategies 1-3 (Recording)
October 5, 2022 - Final Strategy Session for Strateigies 4-6  (Recording)
Please note: If you intend to join the session using a mobile device, you may be required to download the app. Once the session is over you can delete the app if you like.