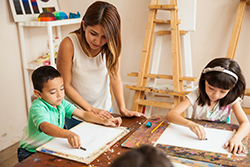 To fully accomplish Maryland's goal of full school readiness by all of Maryland's young children, the Maryland Early Childhood Advisory Council requires closely coordinated strategic planning and implementation at all levels.  Maryland's 24 Local Councils, located in each county and Baltimore City and modeled after the State Early Childhood Advisory Council, were formed under the Race to the Top Early Learning Challenge Grant in 2011 to reform and improve school readiness.  Each Local Council is charged with developing action plans that address local needs to ensure all children are ready for school. 
The Maryland Early Childhood Research Advisory Group serves in an advisory capacity to MSDE's Division of Early Childhood and the Early Childhood Advisory Council (ECAC) in such a manner as to help further its mission. 
For additional information regarding the Maryland Early Childhood Advisory Council or the Local Early Childhood Advisory Councils, please see below:
 For information regarding Workgroup to Study the Implementation of Universal Access to Prekindergarten for 4-Year-Olds (HB 516 Workgroup) click here.