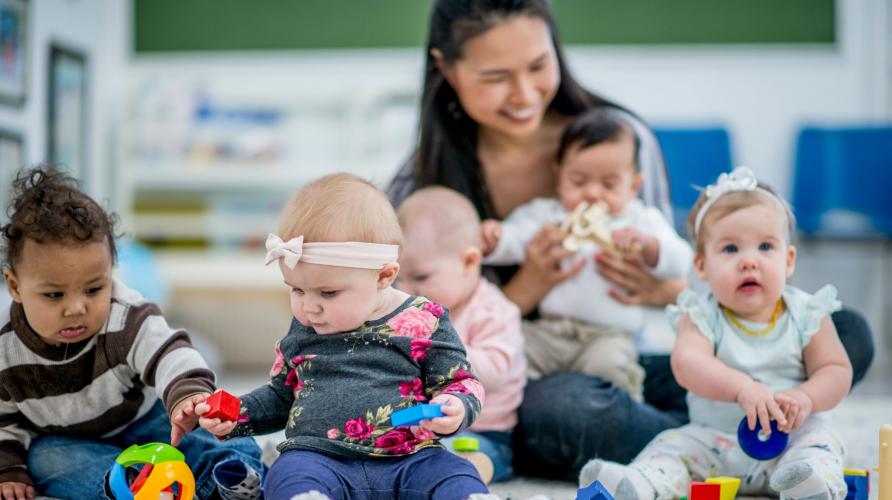 CHILD CARE CENTERS
Licensed Child Care Centers are professionally staffed facilities which generally serve large groups of children. While centers vary greatly in size, each one must remain within the maximum child capacity established for it by Office of Child Care. This means that no more than a specified number of children may be present in a given center at one time (see below). Centers operate for part or all of a day at least twice a week on a regular basis.
Some centers primarily provide care for infants and toddlers. Other centers care only for preschool or school-age children. Most centers provide care for a range of ages.
In many centers, children are usually grouped with others of the same age. Other centers use mixed-age groups (for example, infants or toddlers grouped with pre-school age children, or pre-school age children grouped with school age children).
School-age child care centers offer programs before and/or after school hours and during school holidays, vacations and out-of-school programs for inclement weather. 
Nursery schools are educational programs for children two years through four years old. These programs are approved by the Maryland State Department of Education. Most are also licensed by Office of Child Care as child care programs.
| Child Age Group | Staff-to-Child Ratio | Maximum Size |
| --- | --- | --- |
| 0-18 months | 1:3 | 6         |
| 18-24 months | 1:3 | 9 |
| Two years | 1:6                    | 12 |
| Three to four years | 1:10 | 20 |
| Five years or older | 1:15 | 30 |
Some child care centers operate as non-profit and may be owned by an individual, church, public school, or a government agency. Other child care centers may operate as a for-profit and may be owned by an individual or a chain.
Not all child care centers may be required to be licensed. Some examples of center-based programs that may not be required to be licensed include:
Programs operated by a school
School-age before and after care programs
Summer camps
Faith-based programs, including Parent's Day Out programs
Part-time programs, including some nursery schools, preschools, and pre-kindergarten programs
REGISTERED FAMILY CHILD CARE
Registered Family Child Care Homes are also operated by professional caregivers, but within private residences, usually the primary caregiver's home. There are two types of family child care settings:
Family Child Care – may provide care for up to 8 children in a home
Large Family Child Care – may provide care for up to 12 children in a home
Some of the requirements around these facilities include:
No more than two of those children – including the caregiver's children – may be under two years old unless there are additional staff members present.
There may never be – under any circumstances – more than four children under the age of two, regardless of how many staff members are present.
Family child care homes typically operate for at least eight hours per day and usually offer flexible scheduling.
Like child care centers, some family child care homes provide care for mixed groups while others focus on particular age groups.
---
OTHER CHILD CARE OPTIONS
HEAD START AND EARLY HEAD START PROGRAMS
Head Start and Early Head Start programs are free, federally funded programs designed to promote school readiness for children from low-income families. Early Head Start serves pregnant women and families with children under age 3. Head Start programs serve children between 3 and 5 years old.
PRESCHOOL PROGRAMS
Preschool programs are typically offered for children ages 3-5 years old. Preschool programs may be offered through a school, faith-based organizations, non-profit organizations, and child care centers. 
While some preschool programs may operate on a full-day, year round schedule, some may not.
SCHOOL-AGE PROGRAMS
School-age programs typically provide child care during the before- and after-school hours. They may also offer care during school holidays and summer break. 
Some family child care providers and child care centers also offer school-age care. Other programs, such as schools, parks and recreation departments, community-based programs, and churches may offer this type of care as well.
INFORMAL CHILD CARE
You may choose to have a friend or a relative provide care for your child in your home. Or you may wish to have a relative care for your child in the relative's home. These are informal kinds of child care, and they are exempt from regulation under Maryland law. A friend or neighbor who occasionally "baby sits" your child in her home for short periods is also exempt from regulation -- The care provided is less than 20 hours per month.