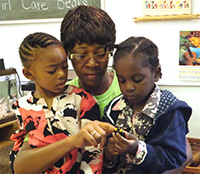 This Tips section provides you - the parent or family member - with a wide range of knowledge about child care options.
And here is perhaps the most important tip of all:
Finding the right provider or teacher for your child may take even more time. If possible, begin looking a few months before your child will need care. Allow several weeks for visiting different child care centers and family child care homes to get a first-hand look at their programs and compare their services. Putting in the time to find child care that both looks and feels right is an important investment in your child's health, safety and development.
Explore this section to find many more tips about how you can make informed decisions when choosing child care and early education programs for your child.