WIDA Early Years is an evidence-based program focused specifically on the language development of young multilingual children, often referred to as dual language learners, in early care and education (ECE) settings. Along with building local capacity in supporting multilingual children and families, the partnership also includes support for strategic statewide planning and the rollout of WIDA Early Years tools and resources. 
To learn more about Maryland parents' perceptions about family engagement practices used in early care and education programs and the extent to which these support children's language learning and development, DEC partnered with WIDA Early Years to conduct a qualitative research study, Young Multilingual Children in Maryland: Exploring Parent Perceptions of Children's Language Development, Family Engagement Practices, and Decision-Making about Early Care and Education.
The WIDA Early Years online modules are professional learning resources focused on the unique needs and experiences of multilingual children, ages 2.5 to 5.5 years. Multilingual children, commonly referred to as dual
language learners, are children who are developing more than one language. Each self-paced, interactive module provides opportunities for reflection and offers suggestions for applying content to local practice. Users must
create their own individual account and register for access.
Users must create a WIDA account and register to access the modules. Registration and accessing the modules is free of charge for everyone in Maryland.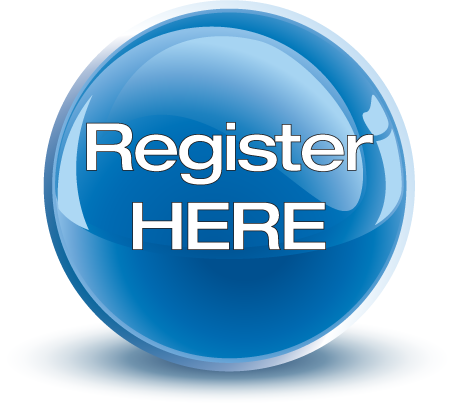 eLearning Course Registration Instructions
Each module concludes with a brief quiz. Users must pass the quiz in order to obtain a certificate of completion. Users may take the quiz more than once if needed. Print and store a copy of your certificate for your records. WIDA Early Years training is automatically accepted for child care license annual requirements.
---
Look What I Can Do! Language-Focused Toolkit for Early Childhood Programs
This webinar provides an overview of Look What I Can Do! Language-Focused Toolkit. It is a toolkit of resources for early care and education (ECE) teachers, coaches, and program leaders, who want to take a purposeful, language-focused approach, to providing equitable learning opportunities for multilingual children in their care.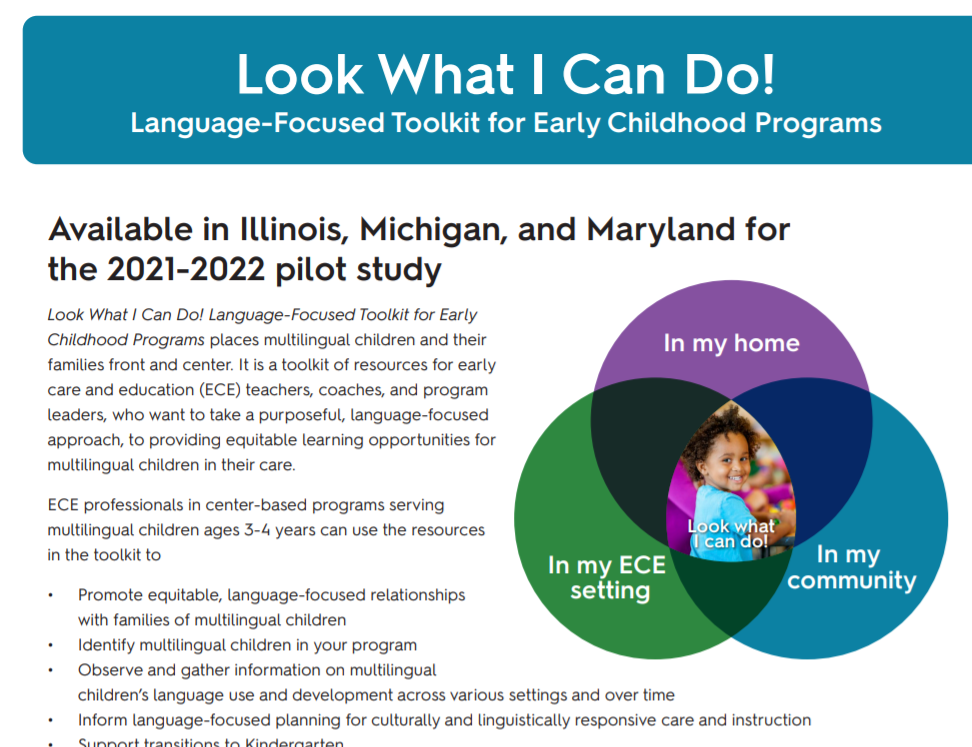 ECE professionals in center-based programs serving multilingual children ages 3-4 years can use the resources in the toolkit to:
Promote equitable, language-focused relationships with families of multilingual children 
Identify multilingual children in your program
Observe and gather information on multilingual children's language use and development across various settings and over time
Inform language-focused planning for culturally and linguistically responsive care and instruction
Support transitions to Kindergarten
Recording: https://go.wisc.edu/062ks5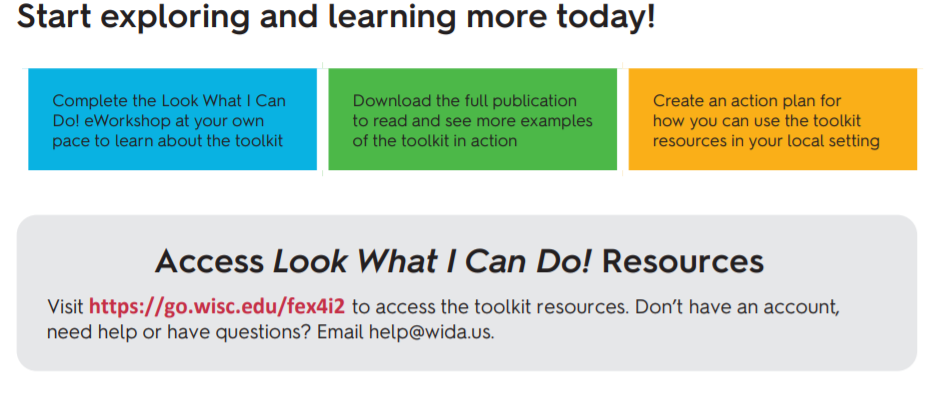 ---
Five Self-Paced eLearning Courses
Each eLearning course includes one hour of content, but users may take all the time they need to complete them.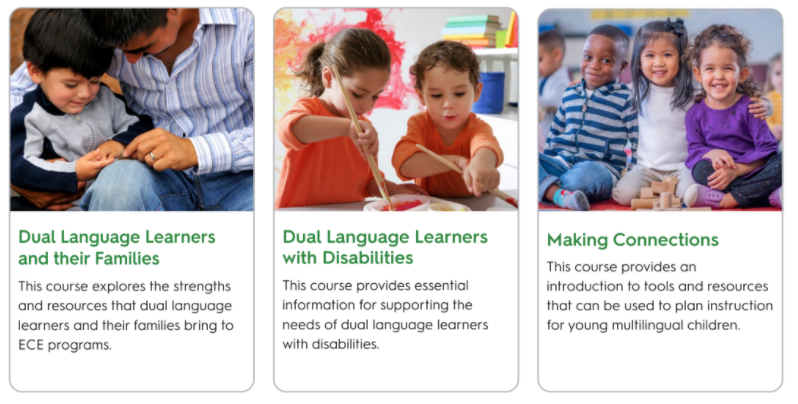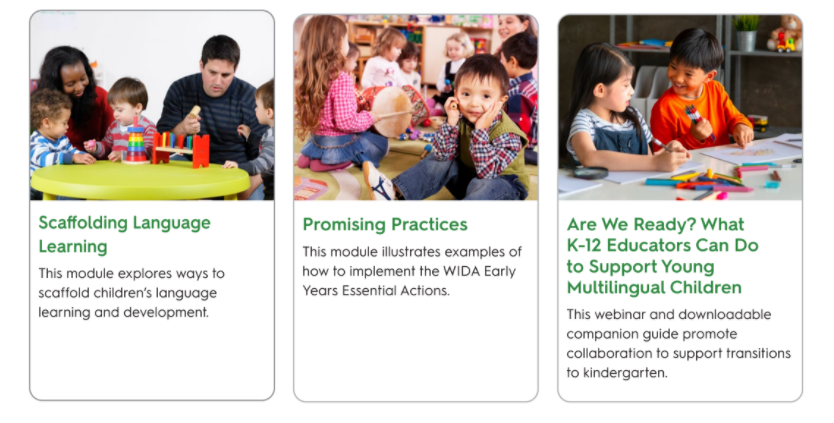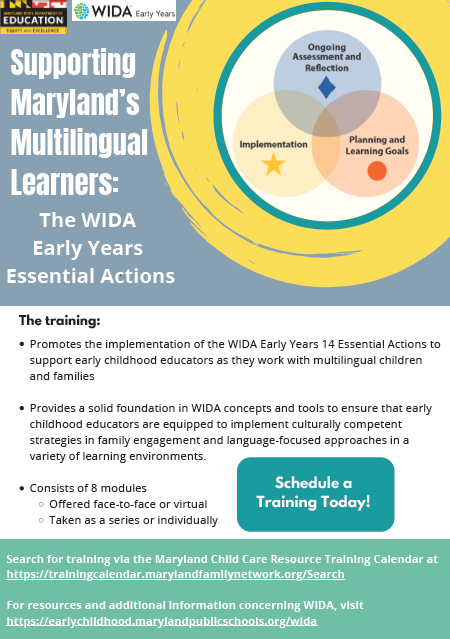 Training available on Supporting Maryland's Multilingual Learners: The WIDA Early Years Essential Actions Trainings Available
The training consists of 8 modules that promote the implementation of the WIDA Early Years 14 Essential Actions to support early childhood educators as they work with multilingual children and their families.
Click the flyer for more information.
To schedule a training, contact one of our approved trainers.
---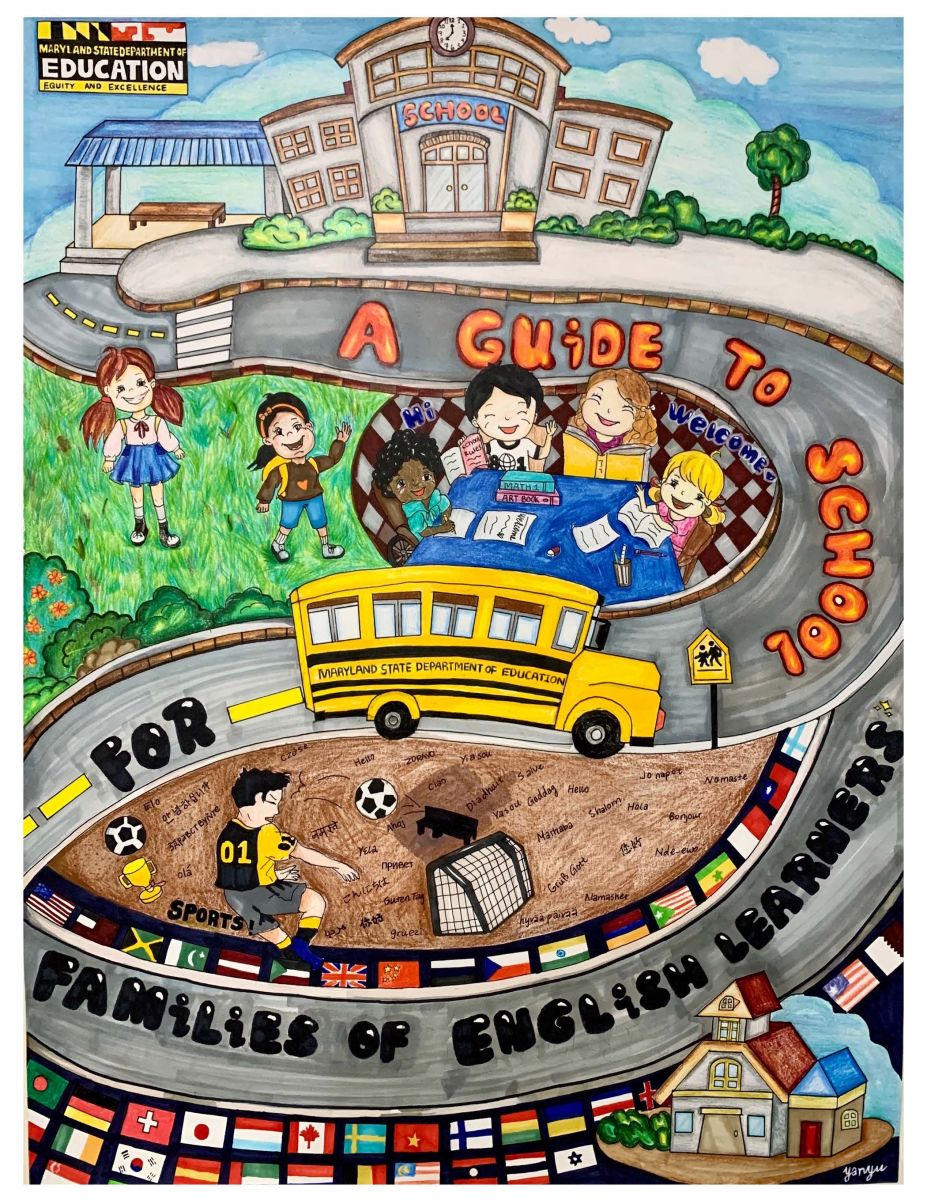 In partnership with MSDE's Title III Office, the Maryland State Advisory Council for English Learners has released A Guide to School for Families of English Learners for families new to the country and families of English learners. This guide, which provides resources  for families beginning in early childhood, has been developed to help families understand the school system and offers suggestions for how to support children's learning and family engagement. This Guide provides information about Maryland's early childhood system, including  how to enroll a child in early childhood programs, support transition to school, and connect parents and families to additional supports. View A Guide to School for Families of English Learners at http://marylandpublicschools.org (Español)
---
Resources to Support Multilingual Families
The WIDA Early Years Learning Language Every Day: Activities for Families is a resource for families that supports conversations with young children about their families and environments. We know that children learn language by listening to those around them and then using their language skills to respond. The activities in these booklets allow for conversations with children about their family, what they like to play, how they feel, what sounds they hear around them at home or in the community, and the weather. The booklets may be downloaded for printing and sharing. They are appropriate for children ages 2-7 years.
We believe these activities can be helpful for parents and caregivers with young children at home. Feel free to share the links to these resources with ECE professionals in your state. The resources can be downloaded for free by using the links below or from the WIDA website:
Learning Language Every Day: Activities for Families (Arabic)
Learning Language Every Day: Activities for Families (English)
Learning Language Every Day: Activities for Families (Simplified Chinese)
Learning Language Every Day: Activities for Families (Spanish)
---
Publications & Toolkits
---