Multilingual children learn and develop language across their home, community and pre-kindergarten through third grade settings. Children's identities, experiences, environments, relationships, exposure to languages, and opportunities to use language all play key roles in their early language development.
WIDA promotes equitable languaging and learning opportunities for young multilingual children by offering tools and resources for PreK-3 professionals.
To learn more about Maryland parents' perceptions about family engagement practices used in early care and education programs and the extent to which these support children's language learning and development, DEC partnered with WIDA Early Years to conduct a qualitative research study, Young Multilingual Children in Maryland: Exploring Parent Perceptions of Children's Language Development, Family Engagement Practices, and Decision-Making about Early Care and Education.
Starting September 1, 2023, WIDA will offer a PreK–3 self-paced eWorkshop, Exploring the WIDA PreK-3 Essential Actions, that will introduce educators to the Essential Actions. Educators will have an opportunity to build their knowledge and understanding of the Essential Actions and to reflect on their own ideologies, practices and settings. The workshop will be available via the WIDA Secure Portal for educators whose education agencies subscribe to the Self-Paced eLearning package.
Users must create a WIDA account and register to access the modules. Registration and accessing the modules is free of charge for everyone in Maryland.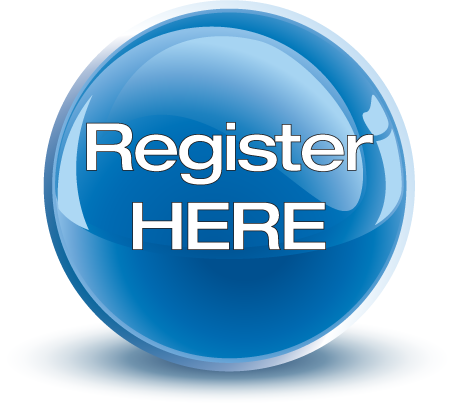 eLearning Course Registration Instructions
---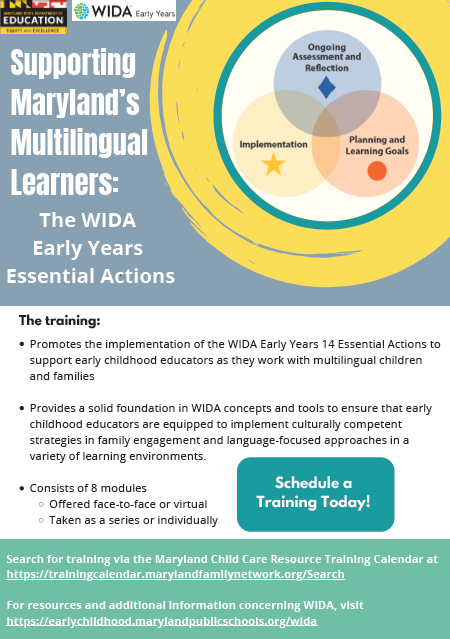 Training available on Supporting Maryland's Multilingual Learners: The WIDA Early Years Essential Actions Trainings Available
The training consists of 8 modules that promote the implementation of the WIDA Early Years 14 Essential Actions to support early childhood educators as they work with multilingual children and their families.
Click the flyer for more information.
To schedule a training, contact one of our approved trainers.
---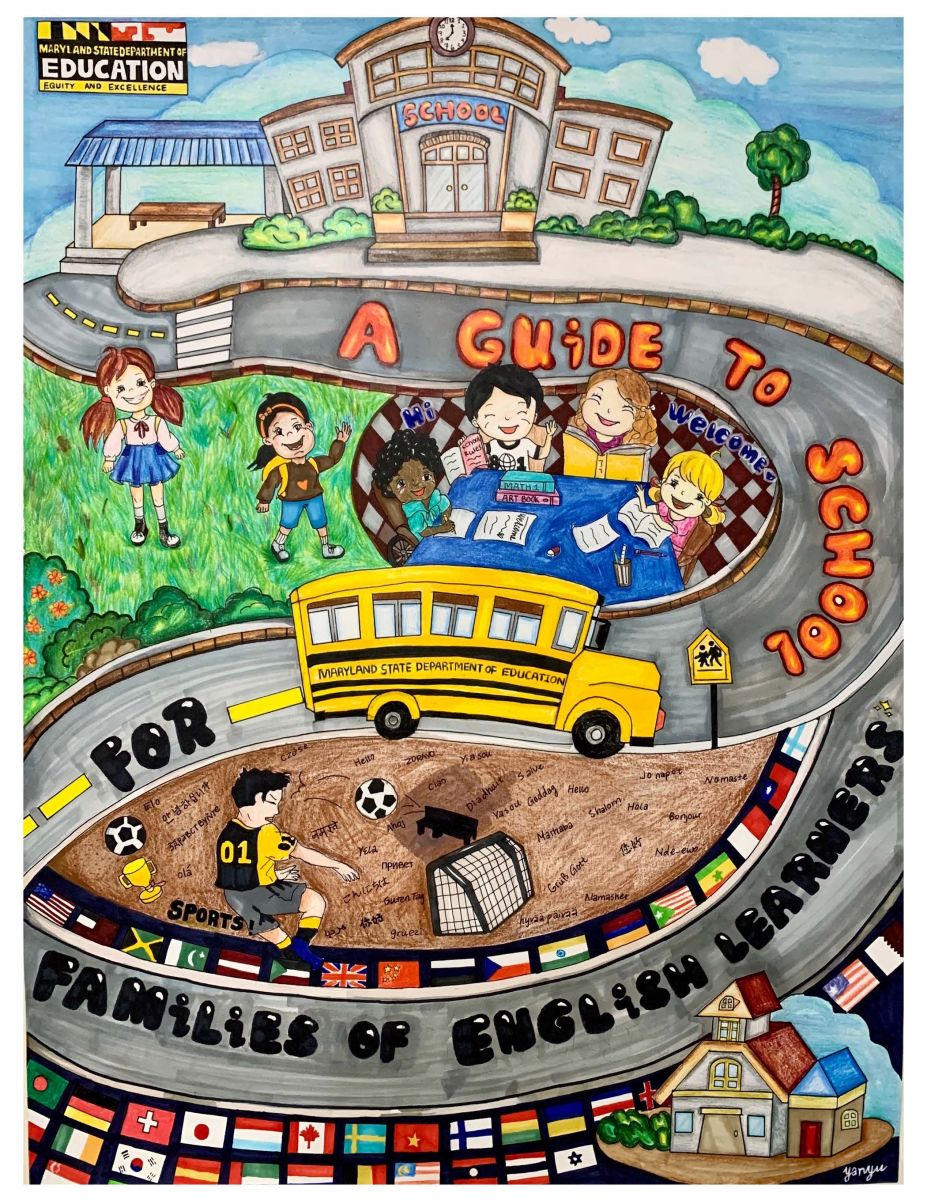 In partnership with MSDE's Title III Office, the Maryland State Advisory Council for English Learners has released A Guide to School for Families of English Learners for families new to the country and families of English learners. This guide, which provides resources  for families beginning in early childhood, has been developed to help families understand the school system and offers suggestions for how to support children's learning and family engagement. This Guide provides information about Maryland's early childhood system, including  how to enroll a child in early childhood programs, support transition to school, and connect parents and families to additional supports. View A Guide to School for Families of English Learners at http://marylandpublicschools.org (Español)
---
Resources to Support Multilingual Families
The WIDA Early Years Learning Language Every Day: Activities for Families is a resource for families that supports conversations with young children about their families and environments. We know that children learn language by listening to those around them and then using their language skills to respond. The activities in these booklets allow for conversations with children about their family, what they like to play, how they feel, what sounds they hear around them at home or in the community, and the weather. The booklets may be downloaded for printing and sharing. They are appropriate for children ages 2-7 years.
We believe these activities can be helpful for parents and caregivers with young children at home. Feel free to share the links to these resources with ECE professionals in your state. The resources can be downloaded for free by using the links below or from the WIDA website:
Learning Language Every Day: Activities for Families (Arabic)
Learning Language Every Day: Activities for Families (English)
Learning Language Every Day: Activities for Families (Simplified Chinese)
Learning Language Every Day: Activities for Families (Spanish)
---
Publications & Toolkits
---