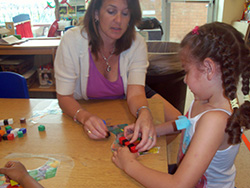 The Child Care Career and Professional Development Fund (CCCPDF) is a tuition assistance program for child care providers to obtain a college education at participating colleges/universities in Maryland. Funding is available for child care providers to earn a college degree in the following areas:
Early Childhood Education
Child Development
Elementary Education
Special Education
The fund does not reimburse participants as the payments are made directly to the college or university. MSDE will notify applicants of whether or not they have received fund approval.
CCCPDF Grant Application Guide
Application Due Dates
First-time applications are due by March 1.
Continuation applications are due by June 30.
Transfer applications (students transferring from a participating 2-year college to a participating 4-year university) due by June 30
First-time applications are processed on a first-come, first-served basis. Priority is given to applicants who have not yet completed any college courses for credit from an accredited college or university.
CCCPDF