Wednesday, March 25, 2020 - 12:45pm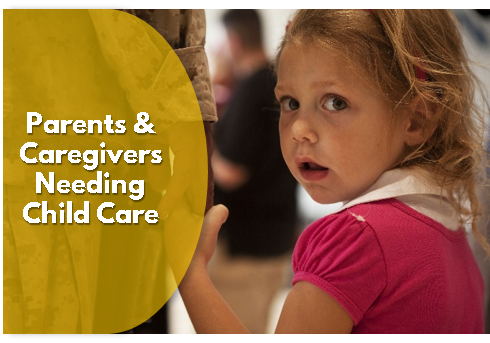 ---
Maryland Together: Maryland's Recovery Plan for Child Care Outlines Path Forward for Child Care During COVID-19 Pandemic
The Maryland State Department of Education (MSDE) developed Maryland Together: Maryland's Recovery Plan for Child Care, a plan to continue and expand child care during the COVID-19 Pandemic.  As the State entered the first recovery stage, MSDE announced the immediate start of a transition phase for child care, expanding access to child care to include families returning to work under Governor Hogan's latest Executive Order. MSDE established a comprehensive stakeholder task force, including family and center-based providers, child care advocates, as well as Maryland Department of Health representatives, to provide recommendations that helped to inform the recovery plan. 
View the full Recovery Plan and the Plan  FAQs for Parents.
---
Beginning Saturday, May 16, 2020, approved EPCC and EPSA sites that have available space may begin accepting children of parents from businesses newly reopened by the Governor's Executive Order Number 20-05-13-01. Parents of these children would pay tuition directly to the provider. EPCC and EPSA sites must continue to invoice the state for children of essential persons as defined by Governor Hogan's March 25th Executive Order Number 20-03-25-01.
---
                                 
School Age (EPSA) Child Care Sites                  Child Care (EPCC) Sites
---
Designated essential personnel may find child care programs using LOCATE: Child Care, a free service available by phone Monday - Friday at 877-261-0060 between 8:00 AM and 4:30 PM. Specialized services for parents of children with special needs, as well as Spanish language, are also available on these platforms.
The child care programs established by the State are at no cost to designated essential personnel only. Children attending the State-funded child care programs will be kept an appropriate distance from each other with ratios of a minimum of 1 teacher and 9 children for school-age with smaller class sizes for younger children.
Parents are strongly urged to keep children at home as the first and best option to protect them from the virus.
Three Easy Steps to Finding Child Care (FOR ESSENTIAL PERSONNEL ONLY)
Check this list to see if there is child care near your home or work and contact the provider directly.
If you don't see a child care provider that meets your needs, call the trained LOCATE: Child Care Referral Specialists to help you select the best child care option for your family at (Toll-Free) 877-261-0060.
Download these four (4) forms, complete and take to the provider of your choice.
---
Refer to Governor Hogan's Executive Order to confirm that you are essential personnel: https://governor.maryland.gov/wp-content/uploads/2020/03/Child-Care-Acce...
Essential Personnel is listed as:
Providers of healthcare, long term or acute patient care, emergency medical or pharmaceutical services
Public Health Employees
Law enforcement personnel
Correctional Services employees
Firefighters and other first responders
Government workers required to work in a State of Emergency
Employees and representatives of insurance carriers
National Guard called to active duty
Staff or providers of child care or education services, including custodial and food service worker
Food distributors and suppliers
Transportation and delivery services personnel
Gasoline service station operators and auto mechanics
Critical Infrastructure employees, such as emergency and support personnel for gas and electric utility operations, public works, water treatment and waste management
Personnel of other institutions ORDERED to remain open during a State of Emergency
Other persons the State Superintendent deems necessary