News 
FDA takes additional action to mitigate shortages of EpiPen by extending expiration date for specific lots of medication (August 22, 2018)
On August 21, 2018, the FDA announced to extend Epipen expiration dates for certain batches for an additional four  months. Factors such as regional supply disruptions and manufacturer issues are believed to be the contributing factors for the limited supply of Epipens.
Though the FDA is not requiring or recommending that the identified batches be relabeled with their new use dates, The Office of Child Care requires that all EpiPens received in child care must come with the Health Care Provider's Authorization and the original Pharmacy  package.  Epipens with the new extended expiration date must be accompanied by a written note either from the child's prescribing health care provider or from the Pharmacy with the pharmacist's signature.
Please visit the following link for more information: https://www.fda.gov/NewsEvents/Newsroom/FDAInBrief/ucm617724.htm?utm_campaign=FDA%20takes%20additional%20action%20to%20mitigate%20shortages%20of%20EpiPen%20%28epinephrine%29%20auto-injector%20by%20extending&utm_medium=email&utm_source=Eloquahttps://www.fda.gov/NewsEvents/Newsroom/FDAInBrief/ucm617724.htm?utm_campaign=FDA
Governor Larry Hogan Announces Expanded Eligibility for Maryland's Child Care Subsidy Program (August 1, 2018)
Twice as Many Working Families Can Now Access Assistance for Child Care Costs
Governor Larry Hogan today announced that Maryland's Child Care Subsidy (CCS) Program will now allow more children across the state to access quality child care and educational programs due to historic changes to the program.
Effective today, August 1, 2018, annual income eligibility limits for the CCS Program will double from $35,702 to $71,525 for a family of four. This increase and additional programmatic changes to the CCS Program this year will result in more Maryland children arriving at elementary school with the educational foundation needed for success during their school years, and in life.
"This program is critically important to expanding educational opportunities for Maryland's low-income working families who depend on this assistance," said Governor Hogan. "Doubling this funding allows us to provide more families with much-needed relief and ensure that more of our kids have access to quality child care and educational programs, providing the foundation for success in the classroom."
The CCS Program is funded through a combination of state and federal sources, which provide financial assistance to help eligible families working or attending educational/training programs to afford child care costs by issuing vouchers.
"High-quality care and education programs at a young age translate to a better start in kindergarten," said Dr. Karen Salmon, State Superintendent of Schools. "We want families to take advantage of this important expansion in eligibility."
In February, Governor Hogan approved the funding needed to lift the CCS Program waitlist that was established in March 2011. In addition, the governor provided much needed funding to increase the CCS Program provider reimbursement rate by 8 percent. During this past legislative session, the governor signed into law legislation which increases provider reimbursement rates over the next three years to not less than the 60th percentile of the cost of child care market rate by 2022. These actions, combined with improved federal funding through the Child Care Development Block Grant, means that Maryland will reach more eligible families.
The revision of the CCS Program income eligibility guidelines to 65 percent of State Median Income, and the increase in provider reimbursement rates, means more children will be able to access high-quality early care and education programs while their parents work or participate in school/training programs across Maryland.
Effective August 1, 2018, families in the following income categories may be eligible for a Child Care Subsidy:
Family Size                         Maximum Annual Income
Family of 2                          $48,637
Family of 3                          $60,081
Family of 4                          $71,525
Family of 5                          $82,969
Family of 6                          $94,413
Family of 7                          $96,558
Family of 8                          $98,704
Family of 9                          $100,850
Family of 10                        $102,996
Note:  CCS Applications submitted prior to August 1, 2018 and were denied for being over-income will need to submit a new application to CCS Central, if the current income falls within the effective income scale.
For more on the Maryland Child Care Subsidy (CCS) Program visit https://earlychildhood.marylandpublicschools.org/child-care-subsidy-program.
Scam Alert - MD Child Care Providers Being Targeted (March 26, 2018)
A phone scam targeting Maryland child care providers aims to gather their personal and credit card information.
The suspicious callers, going by the names of Alex Dawson and Ben, tell recipients that MSDE is running a $100 gift card promo. The reason for the call is to enter providers in the promo and to assist providers with the forms and process that are required to be accredited with MSDE.
Scammers will ask to take the providers' credit card details to activate this promo with $2.95 and also give a verification code. Providers are then placed on hold after this promo process to connect with an officer to complete this process; callers are not connected to an officer. The number given to call regarding the promo is 1-877-605-1539.
Contact your bank immediately if you have given your credit card information to anyone offering a promo from MSDE and/or the Credentialing Branch.
If you have been contacted for this or another scam for the Credentialing program, email credentialocc.msde@maryland.gov. We'd like to hear your story.
Announcements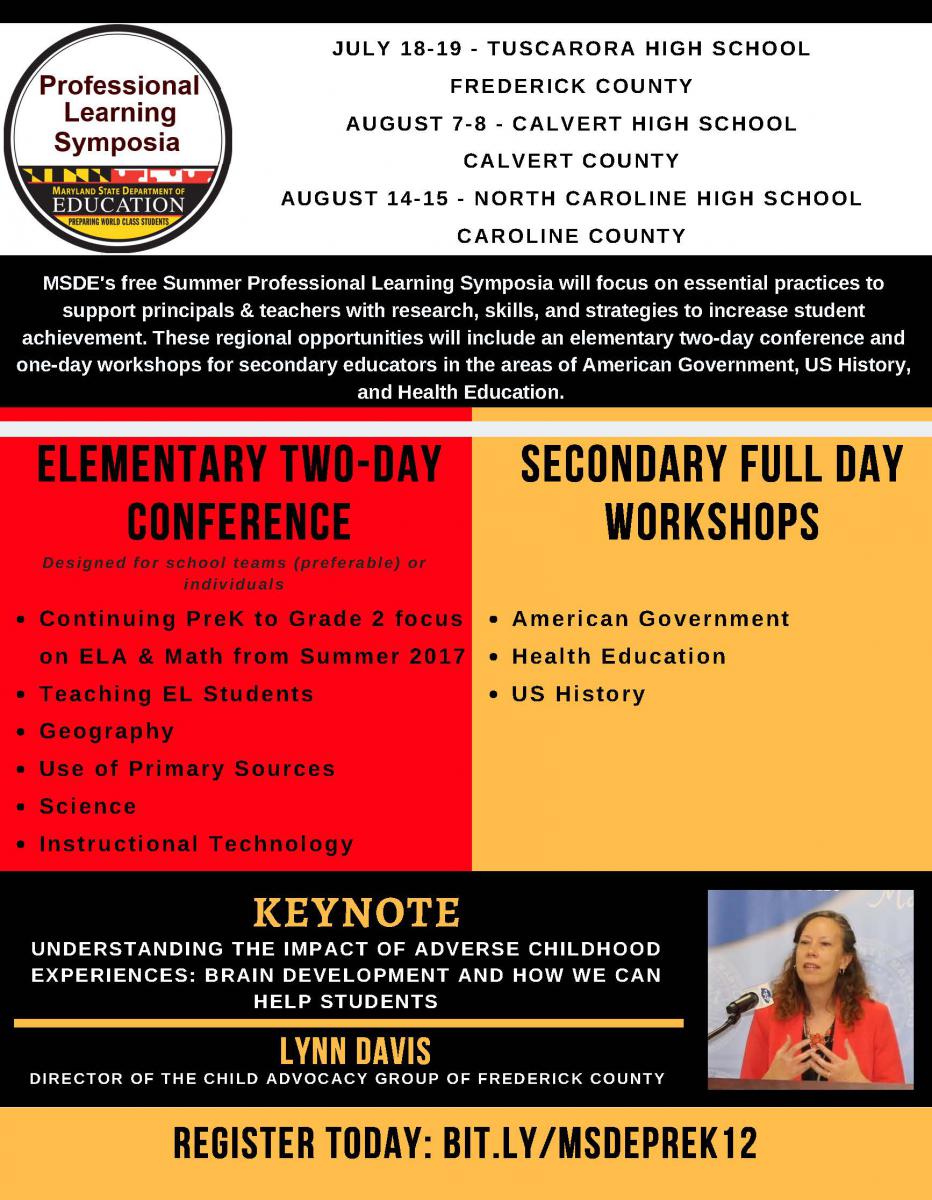 Updated Credentialing Application is Available
Fingerprint system is now live
Early childhood events and trainings around the state.
Funding Opportunities
Child care is a mission.
But it's also a profession and a business.
If you're a provider, you can use this part of the site to learn how MSDE can help you pay for things like accreditation fees, improvements you might make to your program and the adoption of  new curricula. If you're a family member, you can learn about the child care subsidy program that helps eligible families to pay for child care.
All of these programs are essential because they help make quality child care a reality for all of Maryland's children and families.