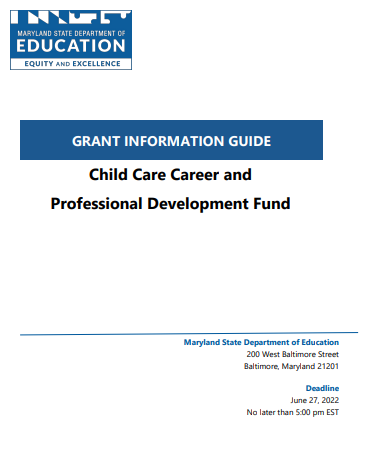 OVERVIEW
The Maryland State Department of Education (MSDE) Division of Early Childhood Education has been administering the program since 2008. Currently, 23 Institutes of Higher Education (IHEs) participate in the program, supporting nearly 400 child care providers pursuing a college degree. Last year, 75 child care providers completed a college degree through this program.
PURPOSE
The CCCPDF supports qualified child care providers who are completing coursework in pursuit of a degree in Early Childhood Education, Elementary Education, Child Development and Special Education or other related field as approved by the State. Funds also support recruitment and expansion of degree attainment of child care providers for the purpose of increasing the quality of care of child care programs. Those awarded funds commit to continued service as child care providers based on the total amount of their scholarship. For example, a child care provider who earns a bachelor's degree must commit to work as a child care provider for 4 years.
ELIGIBILITY
This program is designed for accredited colleges and universities with an early childhood program or related field in Maryland to fund child care providers to enroll in college-level courses to ultimately earn a college degree. Priority will be given to child care providers who:
Have not completed a prior degree program;
Are currently enrolled at a Community College to earn an associate's degree;
Are transferring from a Community College to a University to earn a bachelor's degree; and/or
Are scheduled to graduate within the fiscal year.
APPLICATION DEADLINE
This Grant Information Guide (GIG) was released on May 27, 2022. Proposals are due no later than 5:00 p.m. on June 27, 2022.
SUBMISSION INSTRUCTIONS
Grant applications must be submitted by 5:00 p.m. June 9, 2022 via email to cccpdf.msde@maryland.gov. Applicants use the state MD Onestop portal to apply for the program.
GRANT PERIOD
July 1, 2022 – June 30, 2023
Customer Service Support Sessions
The MSDE will hold two customer service support sessions for interested applicants. During these sessions, MSDE personnel will provide answers/technical assistance to questions. Interested applicants can use the link below to join a session. See dates and times below:
● June 1, 2022 from 11:00 a.m. - 12:00 p.m. 
● June 16, 2022 from 2:00 p.m. - 3:00 p.m. 
Questions
If you have questions about the application or the process, please contact the Program Monitor:
Agneatha Wright
Deputy Branch Chief -Workforce Advancement Branch
Maryland State Department of Education
(410) 767-6923
cccpdf.msde@maryland.gov