The Maryland State Department of Education (MSDE) has been awarded a $26.8 million Preschool Development Birth through Five (PDG B-5) Renewal Grant.
---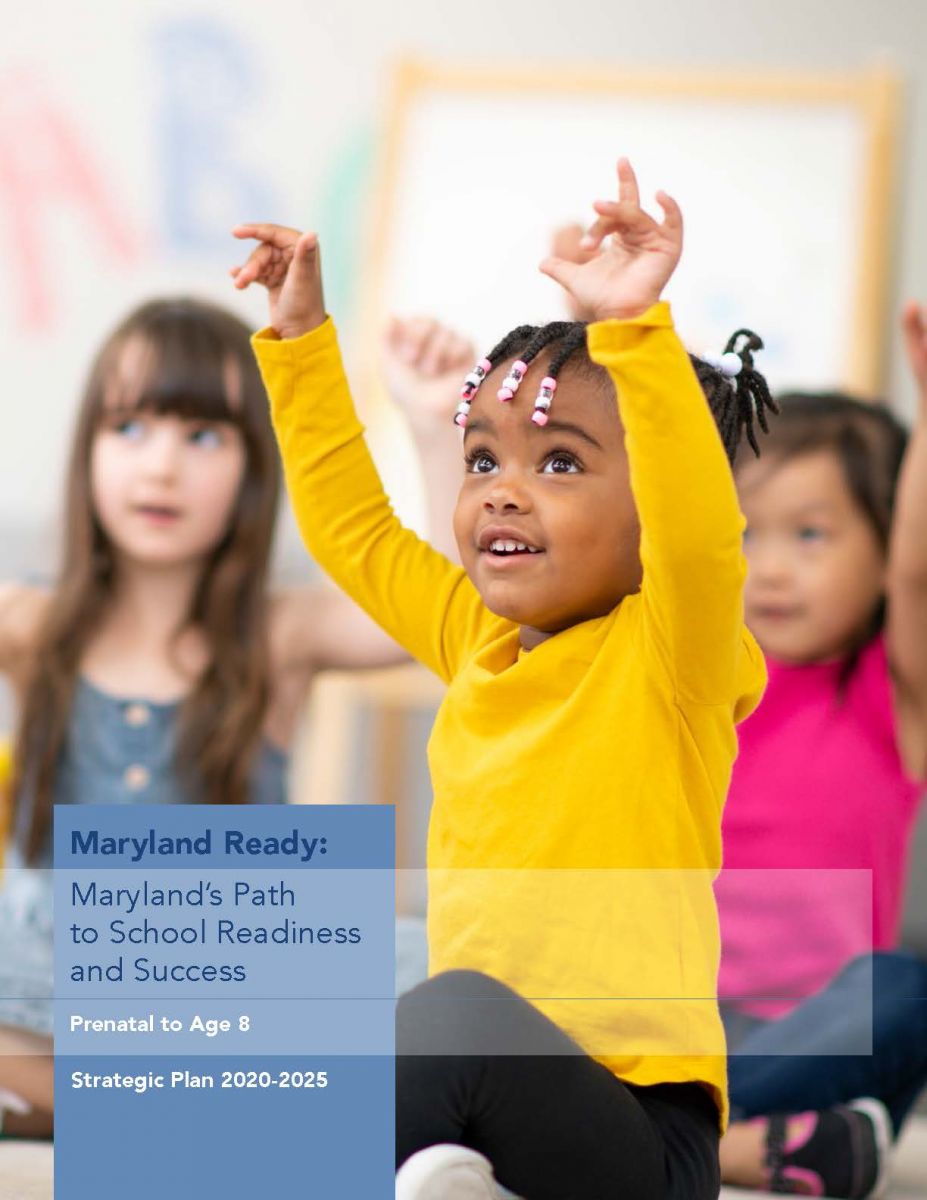 Maryland Ready: A Path to School Readiness and Success, a five-year strategic plan that will map a course to support all children and their families from the prenatal stage up through age 8 in growing up healthy and ready for school success. The development of the plan for Maryland's statewide, comprehensive early childhood system building, led by the Maryland Departments of Education, Health and Human Services, integrates input from a diverse range of stakeholders throughout the state, and is supported by Maryland's federal Preschool Development Birth through 5 (PDG-B-5) Grant.
With the vision that all young children and their families will thrive, the plan articulates the State's overall mission to promote a well-coordinated and integrated system of programs, supports and services for every child. Maryland Ready: A Path to School Readiness and Success outlines the State's overall approach to providing each Maryland child equitable access to a high-quality early childhood experience that promotes a healthy body and mind, as well as the foundational knowledge and skills necessary for success. The overall goal is to ensure that every family has access to the resources needed to be effective as their child's first and most important teacher and advocate.
---
In partnership with MSDE's Title III Office, the Maryland State Advisory Council for English Learners has released A Guide to School for Families of English Learners for families new to the country and families of English learners. This guide, which provides resources  for families beginning in early childhood, has been developed to help families understand the school system and offers suggestions for how to support children's learning and family engagement. This Guide provides information about Maryland's early childhood system, including  how to enroll a child in early childhood programs, support transition to school, and connect parents and families to additional supports. View A Guide to School for Families of English Learners at http://marylandpublicschools.org/programs/Documents/English-Learners/AGuidetoSchoolforFamiliesofEnglishLearnersV1
---
Due to the COVID-19 Pandemic Emergency and until further notice, MSDE will ONLY be accepting grant proposals submitted electronically. Proposals should be submitted as a Word document file. Electronic signatures are allowable.​
---
The Maryland State Department of Education (MSDE) has been awarded a $26.8 million Preschool Development Birth through Five (PDG B-5) Renewal Grant. The grant will help continue the strategic planning and system development of the state's mixed-delivery early childhood system. Maryland's earliest learners start their education in a variety of settings, including center and family childcare providers, Head Start, schools, and other early learning centers and programs. The three-year renewal grant will allow MSDE, state/local partners, and stakeholders to enhance, expand, and build upon activities in the state's PDG B-5 initial one-year grant.
Maryland's vision is to develop a well-coordinated and integrated mixed-delivery system of programs, supports, and services where each child in the state has an opportunity to access high-quality early childhood experiences. These experiences allow children to arrive at school with a healthy body, healthy mind, and the foundational knowledge and skills needed to succeed. With this grant, the state will continue to improve the accessibility, affordability, and quality of comprehensive, two-generational services and supports for children from birth to age eight and their families who may be experiencing adversity.
Under the PDG B-5 Renewal Grant, MSDE plans to sustain effective approaches already underway including:
Modernizing Maryland's early childhood data system
Training and coaching to support evidence-based curriculum for three and four year-olds
Professional development engaging young multi-language learners through WIDA Early Years
Promoting and supporting inclusive settings for young children with disabilities
Strengthening family engagement
Training and coaching for high-quality care and learning experiences for infants, toddlers and their families
Increasing alignment and opportunities across the state's higher education system to support the early childhood workforce
Providing grants to local Early Childhood Advisory Councils and libraries to improve local service capacity and quality
---
---
In December of 2018, Maryland State Department of Education received a $10.6 million federal Preschool Development Birth through Five (PDG B-5) Initial Grant Award to enhance and improve early care and learning programs for children, birth to five, throughout the State.
45 States/Territories received a Preschool Development Birth through Five (PDG B-5) Initial Grant Award from the U.S. Departments of Health and Human Services and Education (Departments).The PDG B-5 grants, which differ significantly from the previous Preschool Development Grants, are designed to fund states to conduct a comprehensive statewide birth through five needs assessment followed by in-depth strategic planning, while enhancing parent choice and expanding the current mixed delivery system consisting of a wide range of provider types and settings, including child care centers and home-based child care providers, Head Start and Early Head Start, state pre-kindergarten, and home visiting service providers across the public, private and faith-based sectors.
Because of the number of high–quality applications received, most budgets of winning applicants were reduced by 29%.  Maryland received $10.6 million, one of the highest awards. The grant performance period will run from December 31, 2018 through December 30, 2019. States and Territories that receive this grant award will also be given the opportunity to apply for Renewal Grants prior to the end of 2019.
Below is Maryland's original submitted application and appendices.  The Departments are currently reviewing all states revised budgets and plans given the reduced funding amounts. Therefore, Maryland may not be able to implement all projects included in their application.
Maryland's grant will help the State develop a plan to better utilize existing federal, state, local, and non-governmental resources to improve delivery of services, as well as to increase the number of children in high quality programs.  Specifically, the grant will allow Maryland to:
Hold nine regional Town Halls as part of a Prenatal to Age 5 needs assessment for the delivery of childcare services, focusing on the State's most vulnerable children.
Provide funding for all 24 local Early Childhood Advisory Councils.
Provide training and coaching for nearly 200 early childhood educators on Maryland's new integrated curriculum for 4-year-olds.
Modernize its early childhood data system.
Support the expansion of the Maryland EXCELS program, a voluntary quality rating system for childcare programs.
Develop an inventory of early childhood education programs at Maryland higher education institutions.
Invest in family engagement activities.
Provide grants for libraries to support children without access to early childhood programs.
Please click on the PDG B-5 grant activities listed here to learn more.
Maryland's new grant is initially for a single year, but MSDE intends to apply for a three-year renewal grant.
Maryland's Renewal Application - Everyone, Together, Working for Maryland's Children