Attention providers seeking training and support for Maryland EXCELS. Come to a Training or Work Group to get the support and information you need. Maryland EXCELS training and work groups are held throughout the State for your convenience.  For questions and to register, contact your Quality Assurance Specialist.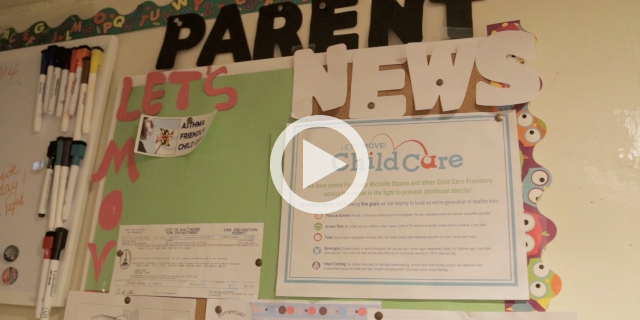 Learn more about the benefits of enrolling in Maryland EXCELS through stories of actual providers.
**If you are unable to view this videos, it may be due to firewalls or security settings on your device.**
For Child Care and Early Education Programs
Maryland EXCELS is a quality rating and improvement system that awards ratings from 1 to 5 to child care and early education programs based on nationally recognized standards and best practices. Maryland EXCELS gives programs and providers a road map that encourages and rewards those that improve their services offered to children and families, while providing support and incentives to programs that strive to make improvements.  Maryland EXCELS provides information that families need to make informed decisions when choosing child care and early education programs. Using a thorough but easy-to-understand rating system, Maryland EXCELS, sets a standard for increasing the availability of high-quality child care and early education for children in Maryland.
Why Maryland EXCELS?
By joining Maryland EXCELS, providers stay connected to the early childhood and school-age communities and are provided with tools and support for continuous quality improvement of the services they provide to families and children.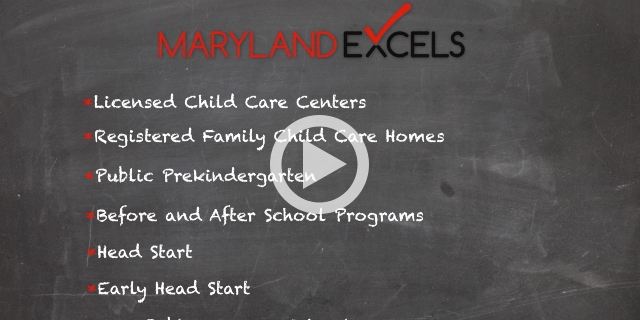 Parents and guardians who are interested in high quality child care can learn about Maryland EXCELS in this brief video.
**If you are unable to view this videos, it may be due to firewalls or security settings on your device.**
For Families
Why Maryland EXCELS?
Maryland EXCELS helps families look at the quality of programs when making decisions about child care and early education programs. Quality comes in many different varieties: in center-based programs, family child care homes, school-age before- and after-school programs, Head Start, non-public nursery schools, or public prekindergarten programs. What works for one family may not work for another, but one thing remains the same -- the need for high quality care and education that prepares children for success in school and life.
"Maryland EXCELS helps me as a provider to look at what I'm doing every day and to improve the quality of our child care."

-- Terri Milburn, Registered Family Child Care Provider from Harford County.

Do You Use a Child Care Scholarship?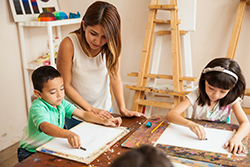 Quality matters when choosing child care.  Maryland families using Child Care Scholarships are required to use a Maryland EXCELS participating program or provider.  How do you find a participating program in Maryland EXCELS?
Ask your prospective provider if he/she participates
Visit or call Maryland Family Network's LOCATE Child Care toll-free at 877-261-0060 or www.marylandfamilynetwork.org.
Click on Find A Program on www.marylandexcels.org
Download the free Maryland EXCELS mobile app and click on Find a Program
For more information on the Child Care Scholarship Program CLICK HERE.