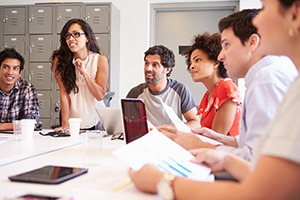 The Race to the Top Early Learning Challenge (RTT-ELC) grant has enabled Maryland to create a seamless Birth-to-Grade 12 reform agenda to ensure that all young children and their families are supported in the state's efforts to overcome school readiness gaps.  This has allowed Maryland to move early childhood education from a good system to a great system.
The LECACs have a common set of goals:
To establish annual benchmarks of school readiness skills of children entering kindergarten.
To conduct a periodic local needs assessment concerning. the quality and availability of early childhood education and development programs and services
To develop an action plan for increasing the overall participation of children in existing programs, including outreach to underrepresented and special populations, elevating the quality of existing programs and coordinating the RTT-ELC goals and objectives at the local level.
To coordinate early childhood initiatives and reforms locally.
To report progress or challenges to the Governor's State Advisory Council on Early Childhood Education and Care. 
The LECAC Chairs/Co-Chairs Contact List (PDF) provides names and contact information for each county.
Download the recommended Local ECAC Bylaws Template.
For more information about the Local ECAC, please email: collaboration.programimprovement@maryland.gov