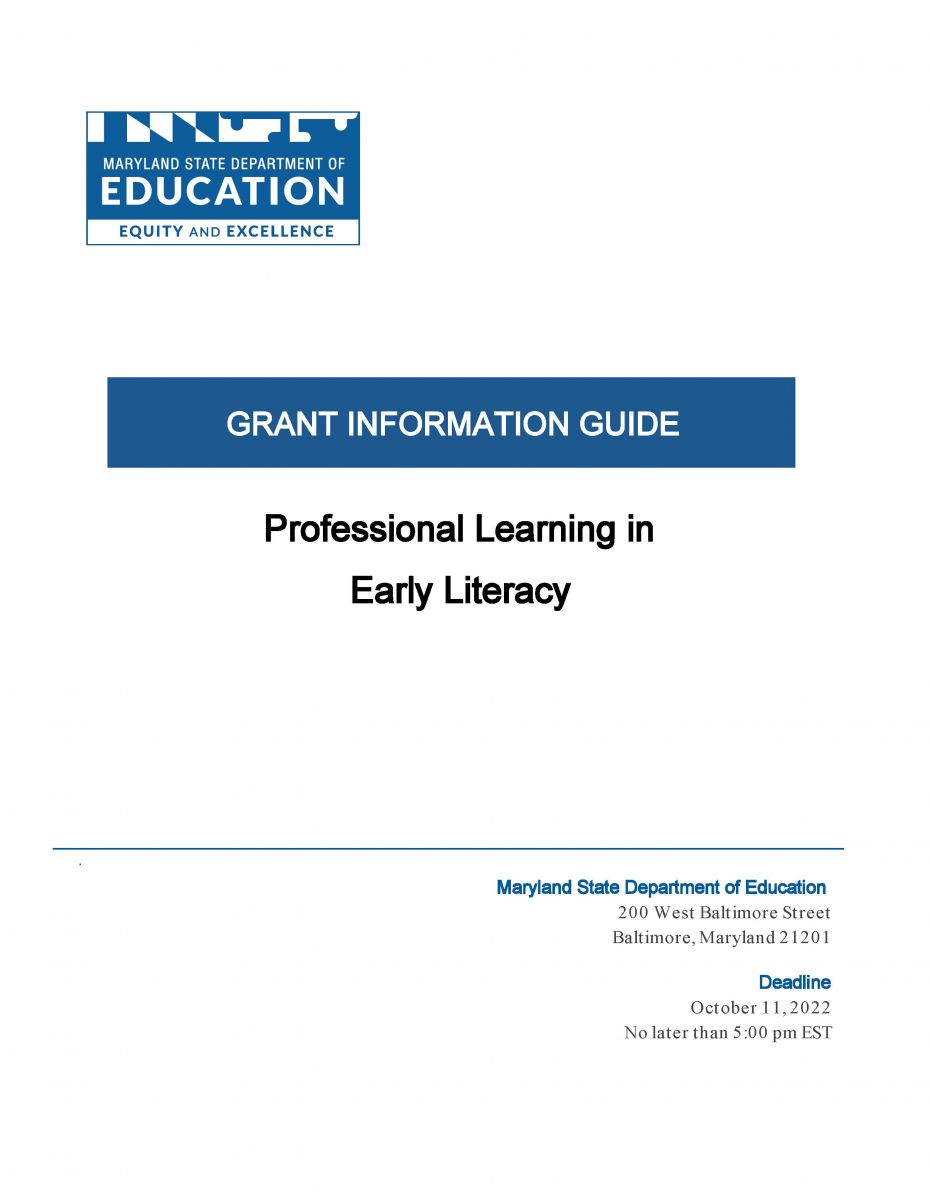 Early Literacy Grant Guide Early Literacy Grant Scoring Rubric
As part of the ongoing commitment to instruction aligned to the research on the Science of Reading, LEAs are invited to apply for funds to support rigorous professional learning targeted to meet the needs of Pre-K teachers throughout Maryland. Professional learning will be offered to Prekindergarten teachers and assistant teachers, coaches, specialists, special educators, Head Start teachers and private childcare teachers of 3-year-olds and 4-year-olds in each LEA. School administrators and child care directors are also encouraged to participate.
The Maryland Leads initiative was announced in February 2022, which makes funding available to LEAs to provide training and materials to Kindergarten - grade 3 educators aligned to the Science of Reading. The Professional Learning in Early Literacy program extends the intention of the Maryland Leads Science of Reading initiative and provides funding to support teachers of 3- and 4-year-old children.
PURPOSE
To provide professional learning to Prekindergarten teachers, Assistant Teachers, coaches, specialists, and Head Start and/or private childcare providers on strategies based on the science of reading research.
Eligibility
This funding opportunity is available for Local Education Agencies (LEAs).
The MSDE reserves the right to take into consideration geographic distribution when making awards.
GRANT PERIOD
September 1, 2022 – September 30, 2023
The performance period from the U.S. Department of Health & Human Services to the MSDE ends on December 30, 2022. The MSDE will apply for a no-cost extension of the grant period in December. If approved, this would allow grantees to use funds until March 2023. Funds must be obligated by December 30, 2022. Funding for grantees will depend on approval by USDE of a no-cost extension.
APPLICATION PERIOD
This Grant Information Guide (GIG) was released on September 13, 2022. Proposals are due no later than 5:00 p.m. on October 11, 2022.
Grant applications must be submitted by 5:00 p.m. October 11, 2022 via email to earlyliteracy.msde@maryland.gov.
FUNDING AMOUNT AVAILABLE
$1,000,000
ESTIMATED NUMBER OF GRANTS
12-24
GRANT AMOUNT
Awards range between $40,000 - $80,000
---
Customer Service Support Sessions
The MSDE will hold several customer service support sessions for interested applicants. During these sessions, MSDE personnel will provide an overview and answer any questions applicants may have.
To attend a session, click on the dates and times below: (Registration is required)
Questions If you have questions about the application or the process, please contact:
Roslyn Coleman
Education Program Specialist
(410) 767-4441
earlyliteracy.msde@maryland.gov