Maryland has a network of 24 Patty Centers (formerly named Family Support Centers) in 14 counties that offer free, educational and health-related services to parents and their children ages birth through three.  
The Patty Centers provide services designed to:
Promote the optimal development of young children
Help adults develop more effective parenting skills and fulfill their aims related to school, employment and family life
Provide supportive networks among parents in local communities
Connect parents and children to the agencies and community resources that can help them
The Patty Centers offer a range of services including:
Quality infant/toddler care and assessment while parents are on site
Parent education
Adult education, family literacy and job readiness training programs
Health education and referral for services
Home visits for some services
Peer support
Service coordination between agencies
Network funding is provided by the Maryland State Department of Education, the U.S. Department of Health and Human Services, private foundations, corporations, and individuals.
Patty Centers are located in the following jurisdictions: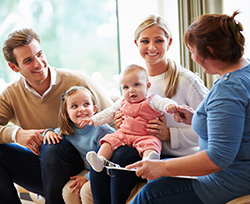 Baltimore City
Bon Secours Family Support Center
26 N. Fulton Avenue
Baltimore, MD 21223
tel 410.362.3629   fax 410.362.3649
email lori_fagan@bshsi.org
Director Lori Harris Fagan
Sponsor Bon Secours Baltimore Health System, Inc.
Family & Children's Services
Early Head Start
4330-D Pimlico Road
Baltimore, MD 21215
tel 410.578.0244   fax 410.367.1927
email lharvey@fcsmd.org
Director Linda Harvey
Sponsor Family & Children's Services of Central MD
Harry & Jeanette Weinberg Early Childhood Center
Henderson-Hopkins School
2100 Ashland Avenue
Baltimore, MD 21205
tel 443.642.4103  fax 410.276.4369
email egalloway@jhu.edu
Director Erin Galloway
Sponsor Johns Hopkins University School of Education
Our House Early Head Start
2707 Sethlow Road
Baltimore, MD 21225
tel 410.396.8469   fax 410.350.0212
email Cassandra.DeLeon@habc.org
Director Cassandra DeLeon
Sponsor HABC/Division of Family Support Services
PACT: Helping Children with Special Needs Therapeutic Nursery Early Head Start Center
1114 N. Mount Street
Baltimore, MD 21217
tel 410.982.0845 x 201  fax 410.982.0844
email cosgrove@kennedykrieger.org
Director Kim Cosgrove
Sponsor PACT: Helping Children with Special Needs
Southeast Baltimore Early Head Start Center
The Harry and Jeanette Weinberg Early Childhood Center at Commodore John Rogers School
100 N. Chester Street
Baltimore, MD 21231
tel 443.923.4300   fax 410.563.2725
email kemper@kennedykrieger.org
Director Gayne Barlow-Kemper
Sponsor Kennedy Krieger Family Center
Waverly Early Head Start Center of Goodwill
829 Montpelier Street
Baltimore, MD 21218
tel 410.235.0555   fax 410.366.7720
email sthomas@goodwillches.org
Director Sharon Thomas
Sponsor Goodwill Industries of the Chesapeake, Inc.
Baltimore County
Center for Family Success
201 Back River Neck Road
Baltimore, MD 21221
tel 410.853.3860   fax 410.686.5479
email juanita.ignacio@maryland.gov
Director Juanita Ignacio
Sponsor Baltimore County Department of Social Services
Caroline County
Caroline County Family Support Center
100 N. 6th Street
Denton, MD 21629
tel 410.479.3298   fax 410.479.3789
email tearesa_french@mail.cl.k12.md.us
Director Tearesa French
Sponsor Caroline County Board of Education
Federalsburg Judy Hoyer/EHS Center
323 S. University Avenue
Federalsburg, MD 21632
tel 410.754.2467   fax 410.754.7091
email tearesa_french@mail.cl.k12.md.us
Director Tearesa French
Sponsor Caroline County Board of Education
Director Wendy Deale
Sponsor Talbot County Health Department
Carroll County
Carroll County Family Support Center
10 Distillery Drive, P.O. Box 489
Westminster MD 21158
tel 410.876.7805   fax 410.386.6675
email jtierney@hspinc.org
Director Joyce Tierney
Sponsor Human Services Programs of Carroll County
Cecil County
Family Education Center
200 Road B Hollingsworth Manor
Elkton, MD 21921-6623
tel 410.287.1100   fax 410.392.9548
email sigo@cecil.edu
Director Stacy Igo
Sponsor Cecil College
Dorchester County
Dorchester County Early Head Start Center
824 Fairmount Avenue
Cambridge, MD 21613
tel 410.901.2015   fax 410.901.2057
email npowell@shoreup.org
Director Nicole Chase-Powell
Sponsor SHORE UP!, Inc.
Frederick County
Family Partnership
8420 Gas House Pike, Suite EE
Frederick, MD 21701
tel 301.600.2206   fax 301.600.2209
email stoms@frederickcountymd.gov
Director Shelly Toms
Sponsor Frederick County Government
Kent County
Kent County Family Support Center 
115 S. Lynchburg Street
Chestertown, MD 21620
tel 410.810.2673
Sponsor County Commissioners of Kent County
Montgomery County
Family Discovery Center
451 Hungerford Drive, Suite 700
Rockville, MD 20850
tel 301.424.2989   fax 301.251.7865
email shari.waddy@fs-inc.org
Director Shari Waddy
Sponsor Family Services, Inc.
Prince George's County
Adelphi/Langley Park Family Support Center
8908 Riggs Road
Adelphi, MD 20783
tel 301.431.6210   fax 301.431.6212
email dsimpson@pgcrc.org
Director Danitza Simpson
Sponsor Prince George's Child Care Resource Center
Queen Anne's County
Family Support of Queen Anne's County
103 N. Linden Street, PO Box 201
Sudlersville, MD 21668
tel 410.438.3182   fax 410.438.3806
email jennifer.crossley@qacps.org
Director Jennifer Crossley
Sponsor Queen Anne's County Board of Education
Talbot County
Talbot County Family Support Center
215 Bay Street, Suite 1
Easton, MD 21601
tel 410.820.6940   fax 410.820.6958
email wendy.deal@maryland.gov
Washington County
Washington County Family Support Center
221 McRand Court, Suite 300
Hagerstown, MD 21740
tel 301.790.4002   fax 301.790.4007
email dyorks@maryland.gov
Director Dori Yorks
Sponsor Washington County Department of Social Services
Wicomico County
Wicomico Family Support Center
SHORE UP! Inc.
500 Snow Hill Road, PO Box 430
Salisbury, MD 21804
tel 410.860.9194   fax 410.860.9373
email rbrinson@shoreup.org
Director Rebecca Brinson
Sponsor SHORE UP!, Inc.