Optional, remote technical assistance is being provided by Maryland EXCELS Quality Assurance Specialists. This replaces Program Improvement Visits. Interested in remote technical assistance? Email accreditation@marylandexcels.org
Maryland Accreditation is a process in which programs commit to continuous quality improvement, to benefit children, families and staff.  The Online Maryland Accreditation Portal is a part of the broader Maryland EXCELS system. 
Accreditation Standards were updated July 1, 2016 when Maryland Accreditation became an online system.  The Standards continue to define quality program practices and assist programs in the process of continuous improvement. 
What do the Standards include?
The Program Administration and Home and Community Partnership sections identify best practice for program policies, procedures and family and community engagement.  These sections are focused on evidence that is uploaded into the online system. 
The Program Operation section is focused on evidence that is observed in the program to ensure alignment with Maryland Accreditation Standards.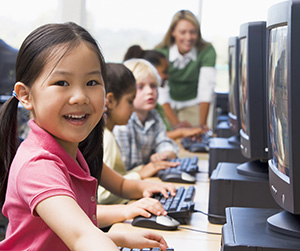 Maryland Accreditation is a voluntary process.  A program chooses to pursue self-appraisal, program improvement, and external program review to achieve and publicly confirm that they meet high quality state standards.  
Maryland Accreditation:
Develops and publicizes Maryland Accreditation Standards that define quality program services in program administration, program operation and home and community partnerships. 
Provides technical assistance so programs can identify areas of improvement and enhance their quality to meet state standards. 
Accredits licensed child care centers and public prekindergarten programs. 
Assists with the cost of pursuing accreditation through the Accreditation Support Fund.
Find out how to participate in the accreditation process, beginning with a required orientation.  
Maryland Accreditation Orientation Schedule---Sign up for an orientation today.
Maryland Accreditation Standards 
Maryland Accreditation Resource Forms
List of Programs Accredited by Maryland Accreditation
---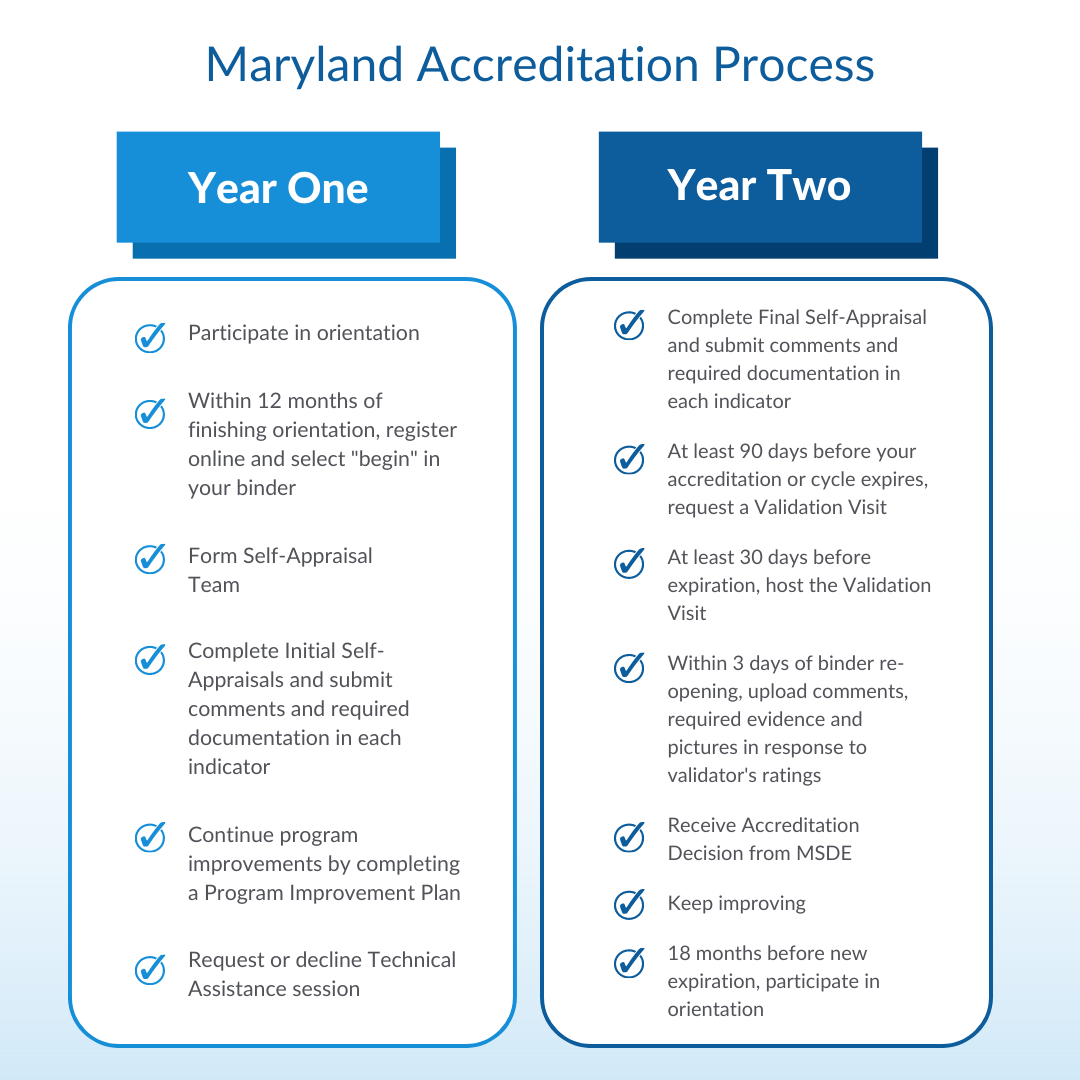 (Click the image to download and print the Maryland Accreditation Process chart.)
---
Accreditation Frequently Asked Questions
---
Maryland Accreditation Tutorials for Child Care Centers and Public Prekindergarten Programs
Welcome to Maryland Accreditation
Maryland Accreditation Optional Technical Assistance
The National Association for Family Child Care (NAFCC) sponsors the only nationally recognized accreditation system designed specifically for family child care providers. MSDE does not provide state accreditation for family child care, but does offer funding to help providers pay the cost of the accreditation application fee. Learn more about the Accreditation Support Fund. 
List of Nationally Accredited Programs in Maryland
To find programs accredited by national organizations, recognized by Maryland Accreditation, search the links below.