Maryland Accreditation is a process in which programs commit to continuous quality improvement, to benefit children, families and staff. 
NEW!! Revised Accreditation Standards effective July 1, 2016!
We are very pleased to announce the revised Accreditation Standards are finalized and ready for implementation. The Standards continue to define quality program practices and assist programs in the process of continuous improvement. 
What's NEW?
Program Administration and Home and Community Partnership sections contain required documentation. Required documentation identifies program policy, procedures, and family and community engagement.
Program Operation section is focused on observable evidence. Observable evidence aligns with program policy. Classroom practices reflect best practices rationale and are aligned with program's policies and procedures.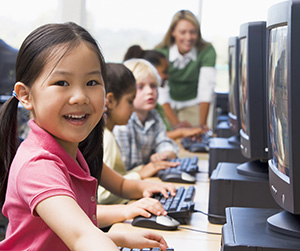 Maryland Accreditation is voluntary. A program voluntarily pursues self-appraisal, program improvement and external program review to achieve and publicly confirm that they meet state, regional and/or national standards.
Your program can voluntarily participate in the accreditation process!
Maryland Accreditation:
Accredits public and non-public early childhood and school age programs
Develop and publicize Maryland Accreditation Standards that define quality program services in program administration, program operation, and home and community partnerships
Provide technical assistance and direct support services so programs can identify areas of improvement and improve their quality to meet state, regional, and/or national standards
Maryland Accreditation Instruments for Implementing Quality Programs 
Maryland Accreditation Resource Forms
Accredited Programs List
Maryland Accreditation for Center-Based Programs and Public PreKindergarten
MSDE and Johns Hopkins University Center for Technology in Education (CTE) launched the Online Maryland Accreditation Portal (O-MAP) for programs seeking Maryland Accreditation. The Online Maryland Accreditation Portal is a part of the broader Maryland EXCELS system. If you have an account, use your current log-in or if you need to create an account, visit www.marylandexcels.org to learn more. 
Family Child Care Accreditation
The National Association for Family Child Care (NAFCC) sponsors the only nationally recognized accreditation system designed specifically for family child care providers. MSDE does not provide state accreditation for family child care, but does offer funding to help providers pay the cost of the accreditation application fee. Learn more about the Accreditation Support Fund. 
Maryland Accreditation recognizes the following accrediting organizations: