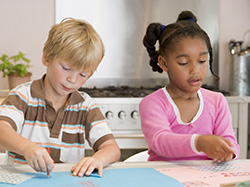 Maryland has two kinds of regulated child care facilities: licensed child care centers and registered family child care homes. In both cases, the facilities are initially authorized to operate for two years. After that, they may apply for a non-expiring license or registration. Unannounced inspections are conducted annually to ensure the facilities meet the legal requirement for regulated child care.
Licensed Child Care Centers
Licensed Child Care Centers are professionally staffed facilities which generally serve large groups of children. While centers vary greatly in size, each one must remain within the maximum child capacity established for it by Office of Child Care. This means that no more than a specified number of children may be present in a given center at one time (see below). Centers operate for part or all of a day at least twice a week on a regular basis.
Some centers primarily provide care for infants and toddlers. Other centers care only for preschool or school-age children. Most centers provide care for a range of ages.
In many centers, children are usually grouped with others of the same age. Other centers use mixed-age groups (for example, infants or toddlers grouped with pre-school age children, or pre-school age children grouped with school age children).
Small group centers have a maximum capacity of 12 children and may be located in private residences.
School-age child care centers offer programs before and/or after school hours and during school holidays, vacations and out-of-school programs for inclement weather. 
Nursery schools are educational programs for children two years through four years old. These programs are approved by the Maryland State Department of Education. Most are also licensed by Office of Child Care as child care programs.
| Child Age Group | Staff-to-Child Ratio | Maximum Size |
| --- | --- | --- |
| 0-18 months | 1:3 | 6         |
| 18-24 months | 1:3 | 9 |
| Two years | 1:6                    | 12 |
| Three to four years | 1:10 | 20 |
| Five years or older | 1:15 | 30 |
Registered Family Child Care Homes
Registered Family Child Care Homes are also operated by professional caregivers, but within private residences, usually the primary caregiver's home. Some of the legal requirements around these facilities include:
There cannot be more than eight children present for care in the home at one time.
No more than two of those children – including the caregiver's children – may be under two years old unless there are additional staff members present.
There may never be – under any circumstances – more than four children under the age of two, regardless of how many staff members are present.
Family child care homes typically operate for at least eight hours per day and usually offer flexible scheduling.
Like child care centers, some family child care homes provide care for mixed groups while others focus on particular age groups.