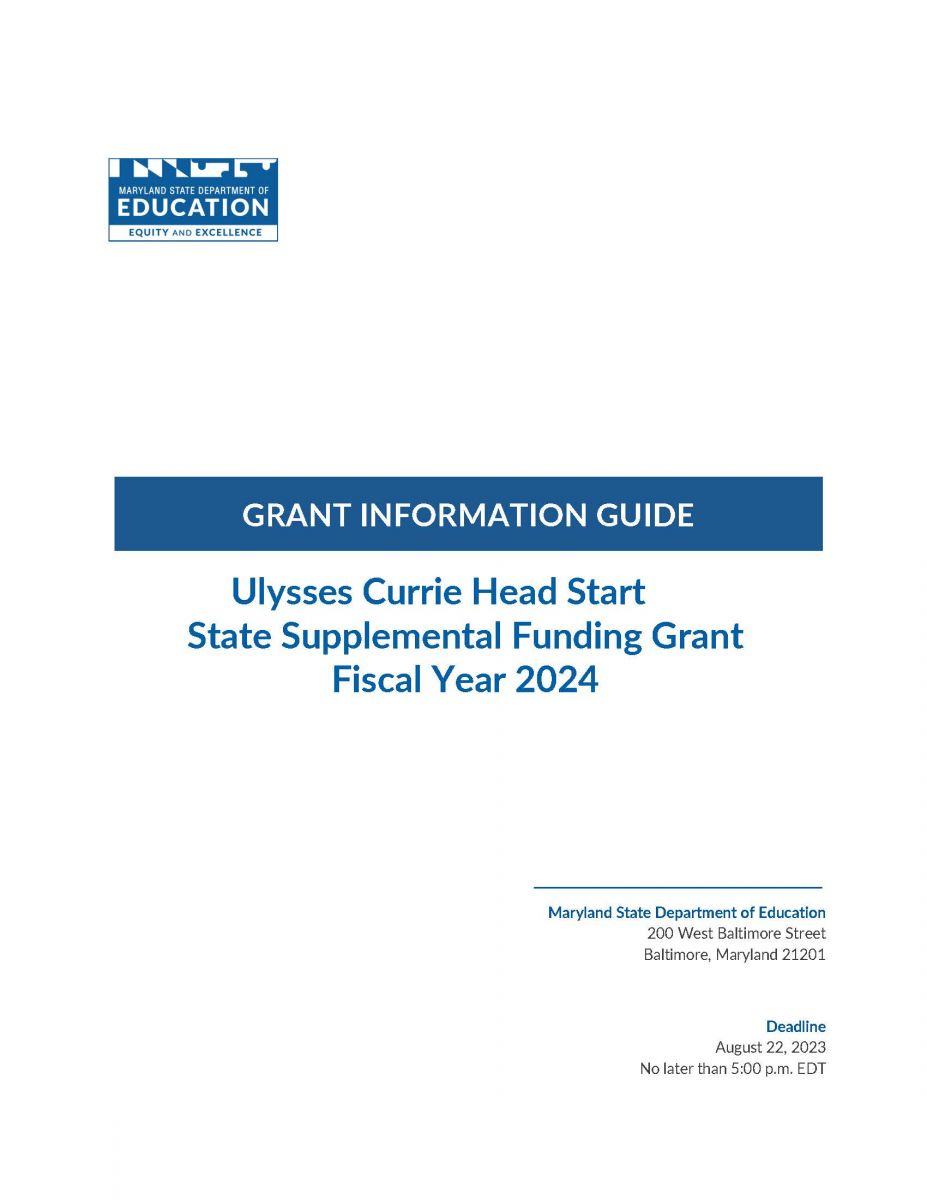 PURPOSE
To increase access to high-quality early care and education services and promote continuous improvement toward school readiness by expanding hours of service, adding summer programming, and/or providing quality improvement measures such as professional learning and development, program improvement, and salary enhancement.
DEADLINE
August 22, 2023. No later than 5:00 pm EST
APPLICATION
SUBMISSION INSTRUCTIONS
The completed application should be submitted in a PDF format as a single document with the appropriate original signatures. The PDF document must be submitted via email to vanessa.jones1@maryland.gov no later than 5 p.m. EST on August 22, 2023.
Customer Service Support Sessions
MSDE will hold three customer service support sessions for interested applicants. During these sessions, MSDE personnel will provide an overview of the application process. The sessions will be on:
Monday, June 26, 2023
10:00 a.m. – 11:00 a.m.
Wednesday, June 28, 2023
2:00 p.m. – 3:00 p.m.
Thursday, July 6, 2023
10:00 a.m. – 11:00 a.m.
Google Meet joining info.
Video call link: https://meet.google.com/dmv-eazj-yjw
Or dial:
MSDE staff will also be available to provide technical assistance throughout the grant application process.
Contact Vanessa Jones at vanessa.jones1@maryland.gov with questions related to the Ulysses Currie Head Start Supplemental Funding Grant.
This funding opportunity, including all attachments and updates, can be downloaded from the MSDE Office of Grants Administration and Compliance website.
PROGRAM CONTACT
Vanessa Jones
Early Childhood Program Specialist
(410) 767-0602
vanessa.jones1@maryland.gov