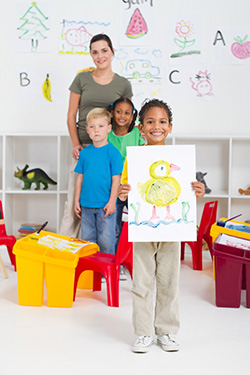 The Child Care Quality Incentive Grant Program (CCQIG) supports projects that improve the professionalism and quality of child care programs. The program also supports initiatives that improve children's school readiness.
The purpose of the program is to award grants as an incentive for child care providers to enhance the quality of care provided to the children of Maryland. MSDE encourages providers, through the Credentialing Program, to acquire additional training and education to enhance their knowledge of early childhood development and the role providers play in helping children to enter school - ready to learn. As providers gain additional knowledge about age-appropriate activities and experiences that help children develop physically, socially, emotionally, and cognitively, Incentive Grants will help them acquire supplies, materials and equipment to create stimulating learning environments. 
The following are eligible to apply for a grant:
Applicant(s) who successfully operated a Child Care facility in Maryland 
Applicant(s) who are participating in the Credentialing Program at Level 2 or higher
Applicant(s) operating a Child Care facility that has Accreditation
Income is not a basis for eligibility; however, the provider must possess a current Certificate of Registration, License, or Letter of Compliance.
Applicants may not be subject to any regulatory action, including suspension, revocation, or a pending compliance agreement involving the health, safety or welfare of children receiving care.
Applicants need to meet the requirements as specified in the Quality Incentive Grant application and must meet at least one of the following three criteria to be eligible for an award:
A Child Care facility is located in Title I Community; or
A Child Care facility where 25% of children enrolled are from families that receive subsidy through the Purchase of Care (POC) program or
A Family Child Care home where one or more of the children in care are from families that receive child care subsidy through the Purchase of Care program

For further information about the Child Care Quality Incentive Grant, please e-mail the Credentialing Branch at credentialocc.msde@maryland.gov.
Through the authority of the Family Law Article, Part X, Sections 5594 through 5594.8, effective October 1, 2002, the Maryland State Department of Education's Office of Child Care has been authorized to establish a Child Care Quality Incentive Grant Program.
The Child Care Quality Incentive Grant Program (CCQIG) is operated in accordance with regulations set forth at COMAR 13A.14.11. These regulations address all program requirements including eligibility and application procedures.
Except as provided by statute or regulation, MSDE may set the terms and conditions for Child Care Quality Incentive Grants. Although the intent is to be innovative, applicants must be able to show how materials approved for funding will be used to implement knowledge gained through participation in training and to enhance the quality of child care.